Who Gets The Family Pets?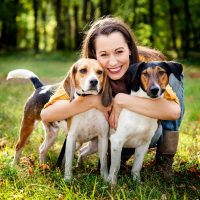 When a couple in Florida divorces, who will keep the family pets can be a topic that leads to arguments. Unlike children, pets are not legal dependents under Florida's divorce laws. Because of this, dogs, cats, and other animal friends are treated as property and are subject to the same distribution rules as other assets, such as furniture or household items.
There are a handful of factors used to determine who will get the pets if the individuals divorcing are unable to reach an agreement on their own. Talk through your hopes for the future and where you are in the process of exiting a marriage with a Port St. Lucie family law attorney. Hiring a lawyer means you will have an experienced professional advocating for you throughout the process.
Crafting Your Own Agreement and the View of a Court
Some couples can come to an agreement on their own regarding the pets. For example, you and your soon-to-be-ex spouse may agree on a shared pet custody schedule. Or, if the animal is valuable, maybe one person can buy out the other person's interests in the pet. Naturally any agreement made should be put in writing and signed by both parties.
If you have tried to come to an agreement and are unable to, or if you have not attempted to discuss the family pets with your spouse because you know it will result in a fight, consider the factors that impact a court's view of who should keep a family pet.
A few of the questions a court will likely ask:
Who has been the primary caregiver? The court will look at who has been primarily responsible for the care and well-being of the pet. This includes things like feeding, grooming, and taking the pet to the vet.
Does one individual have a stronger emotional bond with the animal? Demonstrating a bond may be possible through photographs, videos, or testimony from family and friends.
What is in the best interests of the pet? Ultimately, the court will consider what is in the best interests of the pet, such as who was the owner of the pet prior to marriage, pet's age, any health issues the animal has experienced, and the overall well-being of the animal.
Because animals are property and not dependents, a Florida court will not award support payments or visitation rights when it comes to family pets.
Explore Your Options, Talk to an Attorney
Pets can bring joy to a person's life, and there can be a lot of upset when it comes to determining who will keep a pet when a marriage is dissolved. But there are solutions, and a Port St. Lucie family law attorney can inform you of all your options, each step of the way.
Are you hoping to keep the family pets? Talk to the legal team at Baginski, Brandt & Brandt. Often the divorce agreement you are hoping for can be created through a negotiation process. Contact us today to book an appointment.