Should I Share A Divorce Attorney With My Spouse?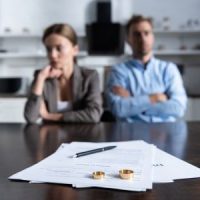 Some find they are able to effectively communicate with their spouse as they separate and divorce. For example, you and your spouse may be in agreement on how assets will be handled. If this is true for you, you and your spouse may have discussed hiring one divorce attorney, a legal professional that both of you will rely on to draft a fair divorce agreement.  IMPORTANT!  AN ATTORNEY CAN ONLY REPRESENT AND ADVISE ONE PARTY.  IT IS A CONFLICT OF INTEREST TO DO OTHERWISE.
While it is natural for spouses to seek out a resolution that is fast, inexpensive, and efficient, it is essential you understand the pros and cons of having one person represented while the other is unrepresented.  Talk to a seasoned Port St. Lucie family law attorney about advantages and drawbacks of using one attorney. Then, you can decide what is best for you.
There Are Pros and Cons to Using One Lawyer
Advantages of using one lawyer include lower costs and increased efficiency. By using a single lawyer, you could split the cost of legal fees and court costs, which is a significant financial benefit for both parties. Additionally, if you and your spouse are in agreement about the terms of the divorce, the lawyer will spend less time negotiating and drafting documents, resulting in a faster timeline and a lower final fee. Both parties can be present for drafting providing that the attorney client privileges are waived between the client and the attorney representing the single client.
But a big drawback of using the same lawyer is the potential for a conflict. There may be specific issues where your interests are not aligned. And if a dispute does arises, the process can fail and result in increased costs to the parties as all the work completed to that point is invalid and the matter must be restarted.  NO ATTORNEY CAN REPRESENT OPPOSING PARTIES.  The unrepresented party can negotiate with the attorney to finalize terms. The attorney cannot provide legal advice to the unrepresented party.
Having a legal expert who is solely focused on you and your future means a professional is advocating for you through the divorce process.  It is impossible to share a lawyer with your spouse, however, often times unrepresented people can and do negotiate settlements with the attorney on the opposing side. It is NEVER recommended to go unrepresented.  Any settlement agreement that is finalized will include language encouraging the opposing party to seek counsel.
Talk to a Florida Attorney Single Party Representation
If your spouse has proposed the two of you pursue a "friendly divorce", be sure you talk to your own legal professional before agreeing to any resolution. You want to be sure you truly understand the issues and potentially waiving rights. Discuss your divorce goals with a Port St. Lucie family law attorney and always have your own attorney if your spouse is represented.
YOU CAN NEVER SHARE an attorney with your soon-to-be-ex spouse. Be aware that an attorney can only represent one side and provide advise to one side and understands the risks involved of being unrepresented.
The legal team at Baginski, Brandt & Brandt will compassionately listen to you and share with you possible paths forward, including what to expect if you or your spouse choose to be unrepresented. Contact us today to book your fee-free consultation.