Not All Prenuptial Agreements Are Held Up in Court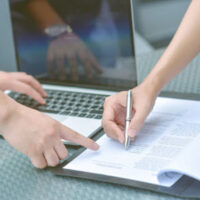 A prenuptial agreement can be an important aspect of marriage and a useful tool to protect oneself, or the other spouse, in the event of a divorce, risky business venture, gambling addiction, bad credit, bad loan, or another known or unforeseen event or circumstance down the road. Most prenuptial agreements are put into place to protect a spouse who has pre-marital funds, business ventures However, not all prenuptial agreements stand up in court. An experienced family law attorney can help you create a valid prenuptial agreement that has staying power, or review an existing prenuptial agreement during a contested divorce to let you know whether it is valid or not.
What Exactly is a Prenuptial Agreement?
A prenuptial agreement is simply a legal contract between two spouses regarding property rights and other issues. Under normal circumstances, both parties are eligible to receive marital property, including debt, in the event of a divorce. A prenuptial agreement can do away with equitable division of property if it states as such. Prenuptial agreements can do many other things as well. However, the more specific, and bizarre, the prenuptial agreement, the more likely it is to fail in court if the marriage ends in divorce.
Normal Prenuptial Agreement Characteristics and Clauses
Financial disclosure;
Separate legal counsel during divorce;
Maintenance agreement;
Business ownership;
Provision for providing for children in a previous marriage or relationship;
Retirement benefits;
Estate plan protection;
Debt protection;
Separation of marital property.
When a Prenuptial Will Not Hold Up in Court
The other spouse was pressured, coerced, tricked, or blackmailed into signing the agreement;
If it was not created by a family law attorney it will generally not hold up in court as there are specific thresholds that must be met to be enforceable;
It has stipulations about child support, which a prenuptial cannot change in Florida under statute 61.079;
It has a stipulation about child custody or visitation, which is also not the purpose or ability of a prenuptial to decide in Florida;
The prenuptial was not signed before the marriage was valid (it was signed days or weeks after marriage, which is what post nuptials are for); and
The agreement is "unconscionable" and:

One party was not provided a fair and reasonable disclosure of the property or financial obligations of the other;
One party did not waive a right to disclosure of the property or financial obligations of the other party beyond the disclosure provided; and
One party did not have adequate knowledge of the property or financial obligations of the other.
Call a Port St. Lucie Prenuptial Agreement Attorney Today
Despite their usefulness, only five to 10 percent of marriages have prenuptial agreements, according to the Harvard Gazette. Because they are relatively rare, many people do not understand prenuptials in general, do not know what they should include in their prenuptial, or do not understand what they are being asked to sign. If you are getting married, or if you are going through divorce, an experienced family law attorney can help. Call the Port St. Lucie prenuptial & postnuptial agreement attorneys at Baginski Brandt & Brandt today at 772-466-0707 to schedule a free consultation.
Resource:
news.harvard.edu/gazette/story/2003/10/for-many-prenups-seem-to-predict-doom/