Importance Of A Support System While Navigating A Divorce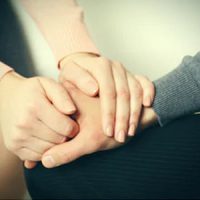 While a divorce can be a new beginning, it is also the end of a union, which can result in a flood of emotions and concerns. It is normal to grieve a marriage you are leaving, and many find a support system to be beneficial when navigating such a huge life change.
While support groups, attorneys, counselors, and friends can't take away your sadness, they can stand by you and help you pave a path to a life that brings you joy. To learn about what resources are available and gain assistance with the legal aspects of your divorce, discuss your situation with an experienced Port St. Lucie family law attorney.
Friends, Family Members, and New Connections
The type of support a person needs will depend on their circumstances. For example, if you are having scheduling problems when it comes to picking up the kids from school, friends and family members may be able to lend a hand. Often someone in a social circle knows how difficult divorce can be as they have gone through one on their own and they may be more than willing to lend a patient ear when you need to talk through emotional difficulties as well.
Yet there are also times when close friends you've known for years also maintain contact with your spouse, leading to awkward exchanges. In these situations, it can be advantageous to make new connections, either people you meet in a divorce support group or individuals who share a common interest. Maybe friends could be made while taking tennis lessons at a local park or through joining a community group dedicated to improving your neighborhood.
Discuss Legal Questions with an Attorney
Connecting with counselors and friends you trust leads to emotional healing, but for legal concerns, it is in your best interests to discuss your obstacles and goals with a seasoned attorney. While divorces are common, and someone close to you may share what happened to them when their marriage ended, it's important to remember each situation is unique and needs to be assessed individually.
Items that an attorney will discuss with you:
How will assets and debts be divided?
Is the custody arrangement I'm seeking possible?
Are these the right items to deem open for negotiation?
What will my financial future look like?
Developing a mix of supports means you can build your life emotionally while a legal professional secures the future you are seeking. To discuss your goals and what resolution options you have, connect with a Port St. Lucie family law attorney.
Is it time for you to build your support system, including connecting with an experienced divorce attorney? Our family lawyers will walk you through each step and will inform you of your options throughout the process. The Florida family lawyers at Baginski, Brandt & Brandt understand what documents could strengthen your case, leading you closer to your objectives. To achieve the future you are seeking once your divorce is finalized, connect with a skilled legal professional. Contact our team of lawyers without delay, together we will strategize a path forward.