How Caretaking Duties Can Affect Division of Assets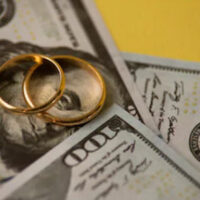 In Florida, asset division during divorce is carried out under the doctrine of equitable distribution, meaning that assets are divided "fairly," though not necessarily evenly as they are in community property states, which split marital assets down the middle, 50/50. Moreover, only marital assets are subject for division; this only includes assets and debt that are accrued during the course of the marriage. Assets owned before the marriage began do not get divided. Asset division is based on many factors, including the financial and non-financial contributions made to the marriage by each spouse. This means that, while one spouse was earning $200,000 a year in income, they do not get to keep all of the marital assets, or even the lion's share.  Funds earned during the marriage, with few exceptions are marital funds.  The Court may even give an unequal share of assets to the spouse earning less and can take into consideration, earning potentials, whether the other spouse made sacrifices and contributions of their own to build the family, care for relatives, or care for the higher earning spouse in their older age or when they go sick or injured. Caretaking, homemaking, and child raising is taken into account to calculate what each spouse should be awarded during equitable distribution of assets.
Caring for The Children
Raising children is the most common form of caretaking contributions. As any mother or father knows, raising children is a full time job, particularly when the other parent has a monetary occupation, leaving you to do the majority of the child care by yourself.  The Court can take into consideration the stability of the child and the best interest of the child in the granting of the marital home to a parent.
Homemaking
Caring for the home is also taken into account during equitable distribution. Cleaning, grocery shopping, preparing food, doing maintenance and remodels, purchasing household appliances and furnishings—these are all contributions that may not have a price tag themselves, but are valued and taken into account during division of assets. These are also duties that women take on much more often than mend. Wives generally do more domestic duties than men, even when they are the primary breadwinner, according to the Atlantic. Whether you were the primary breadwinner or not, your domestic duties need to be accounted for.
Caring for an Elderly Parent of the Other Spouse
As nursing homes and assisted care facilities continue getting more expensive by the year, according to the Claims Journal, more families are deciding to take in their elderly parents. Caring for an elderly person, like caring for a child, can be a full time occupation. There are countless doctor's visits and appointments, they need supervision and assistance getting up out of chairs and getting to the bathroom, and countless other needs that the caretaker has to be around to provide.
Caretaking for the Other Spouse
Whether your spouse got injured on the job, was injured in a car crash, or got cancer, if you were their caretaker who helped them get back on their feet and fight the illness or recover from their injuries, that caretaking contribution must be accounted for during asset division. Likewise, if you have become a caretaker for your spouse because of their old age, dementia, permanent illness, disability, or cognitive impairment, that must also be accounted for.
Contact a Port St. Lucie Asset Division Attorney Today
As a homemaker, spouse with the primary parenting duties, or elderly family member caretaker, your contributions and sacrifices deserve to be recognized by your spouse. Moreover, they deserve to be recognized by the court, and asset division needs to reflect this. Call our Port St. Lucie family law attorneys at Baginski Brandt & Brandt today to schedule a free consultation at 772-466-0707.
Resources:
theatlantic.com/family/archive/2019/05/breadwinning-wives-gender-inequality/589237/
claimsjournal.com/news/national/2019/06/25/291660.htm