How Can I Find Common Divorce Goals?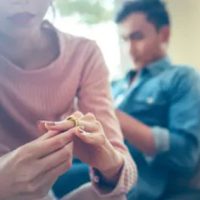 Disagreements and emotional conflicts are unfortunately common when couples are divorcing. And it can be even more frustrating if you are moving toward a divorce and have heard that the divorce process could be smoother, faster, and less expensive when common goals can be found. When tensions are high, it can be difficult to see where those common objectives are, but a legal professional can listen to your story and share possible resolutions with you.
Navigating disputes is an area of expertise for seasoned Port St. Lucie family law attorneys. Being clear on your own personal goals is part of the process. Once your attorney knows what you need in order to be comfortable with an agreement, they can fight for those top priorities. This will help you to avoid being engaged in the same argument over and over, saving you stress and money.
Lawyer Discussions Can Hone Priorities
To achieve the results you are seeking, you need to have clear priorities. Sometimes two individuals are fighting about an issue without even seeing that there is a common ground. For instance, if you and your spouse have been fighting over the vacation property, you may not have addressed what will happen to the primary residence. In some instances, when a spouse is offered the option of retaining the primary home, free and clear, in exchange for releasing their stake in the vacation home, they find that option attractive.
Once you and your lawyer have talked through your desired timetable and what assets you are hoping to secure, they can introduce you to a variety of options. Even when common ground is not readily in reach, a long, litigious battle could be avoided through other resolution strategies, such as mediation.
There are many factors to address, particularly if you are a high-net worth couple, have children, or are seeking maintenance payments. Knowing what you need, what you want, and what steps need to be taken to make those needs and wants a priority is part of the process.
Your Florida Attorney Can Negotiate for You
When a couple is constantly fighting, it is hard to reach calm solutions. But you do not have to have ongoing discussions and disputes with your soon-to-be-ex spouse. Instead, your Port St. Lucie family law attorney will communicate with the other attorney and share negotiation choices with you. Regular communication with your attorney means you will be informed each step of the way, but will not have to engage in heated talks.
Were you under the impression that you and your spouse agreed on divorce terms but now there are disagreements? Creating an agreement both people are comfortable with can take time, skilled family lawyers know how to negotiate and find areas of commonality. When you're ready to learn about what is possible for you, connect with the aggressive and compassionate legal team at Baginski, Brandt & Brandt. Our attorneys can guide you toward securing the key outcomes you are seeking. Contact us today to book an appointment.