Florida Fathers And Co-Parenting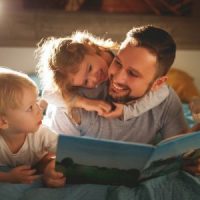 In past generations, it was common for mothers to be granted full custody and for a father to receive visitation rights. In many cases, the dad would be awarded a visitation schedule with the kids staying at their father's house every other weekend. But that is not true anymore. Because it has been widely reported that it is beneficial for kids to have a strong attachment to both parents, co-parenting is more common now.
When both parents are open to co-parenting, creating a parenting plan that both people find acceptable is an important step in the process. Taking the time to create a clear parenting plan can smooth the process of co-parenting. Share your hopes and concerns with a Port St. Lucie family law attorney to determine next steps.
Many Dads Pursue Joint Custody
Both fathers and mothers want what is best for their kids, and a big benefit of joint custody is that the children are able to grow up with the care and influence of both of their parents, even when their parents are no longer married. And when communication is possible, mutual decisions can be made when it comes to education, extracurriculars, and household rules.
Studies show joint custody is beneficial for a variety of reasons:
Children will have an ongoing relationship with familial relations on both sides.
Kids will have the benefit of parental support from both parents.
There is a break from the stress of child rearing for each adult.
Academic success is more likely.
Reduction in likelihood kids will smoke or drink.
Data suggests that growing up in a home without a father figure can increase the likelihood of a child struggling in school or having behavioral issues. Of course, each situation is unique and needs to be assessed and determined individually.
Co-Parenting and Support Payments
Whether a person will be awarded child support payments or spousal maintenance payments will depend on a variety of factors, including the amount of time children spend at both households and the current income of each parent. Additionally, future income possibilities and other monetary resources will be assessed.
If you are a father in the state of Florida who is interested in pursuing joint custody, talk to a Port St. Lucie family law attorney. There are a range of factors that need to be decided during the divorce process. Once your lawyer understands your objectives, they will share with you paths forward. For example, if you make more than your spouse, you may be able to craft a co-parenting agreement in which you agree to handle private school tuition and a wider divorce agreement free of support payments.
Are you a Florida dad who wants to share parenting responsibilities? Fathers have rights and legal professionals who have experience in custody negotiations can help you achieve the agreement you are hoping for. To get started, share the details of your situation with the compassionate legal team at Baginski, Brandt & Brandt. Our attorneys are committed to our clients, we will walk you through the process of negotiation and inform you of various resolution options as they present themselves. Contact us today to book an appointment.