Florida Divorce And Property Division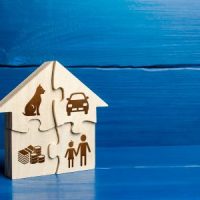 How property is divided during the divorce process differs from state to state. In Florida, divorces follow equitable distribution rules. As a result, property is not necessarily divided equally, in a 50/50 split. Instead, a fair and equitable division needs to be established. A judge can do this if a dispute goes to court or you and your spouse can reach an agreement that follows Florida guidelines that will then be finalized by a judge.
To talk through what could be a fair distribution for you, when it comes to the property you inherited prior to your marriage, properties you and your spouse purchased during the course of your union, and any vacation or rental properties you and your spouse maintain, connect with a Port St. Lucie family law attorney.
Is It Non Marital or Marital Property?
For each piece of property you own, it will need to be determined if the property is a non-marital asset or a marital asset.
Generally, a non-marital asset is a property obtained or inherited prior to you and your spouse getting married.
Any property purchased or obtained while you and your spouse were married, is typically a marital asset.
Marital properties will need to be divided equitably, but non-marital property can be kept by the spouse who owned the asset before and during the marriage.
How equitable division will be determined will depend on a range of factors, including how long the marriage lasted, the incomes of each individual, any health issues that impact on or both spouse's ability to continue working, other debt and tax responsibilities, and if there are child support obligations or other financial commitments.
Working with a lawyer can help you to determine if what you think would be a fair and equitable distribution is in line with what would likely be awarded by a Florida judge if your case would go to court. With that knowledge in mind, an agreement can be negotiated between your lawyer and your spouse's attorney. And, of course, you will be able to approve or push back on any terms you do not agree with as the agreement develops.
Are You Ready to Meet with a Florida Divorce Lawyer?
With so many details to consider, working with a skilled Port St. Lucie family law attorney can help you clarify your options. Talk through your goals with a legal team, including which properties you are hoping to keep and if there are any you feel comfortable selling. Additionally, you may be ok with having your spouse retain a property if you can secure a separate objective.
Is Florida property an area of dispute? If you are seeking a divorce agreement that will allow you to move into your future with economic security, connect with the compassionate legal team at Baginski, Brandt & Brandt. Property division is one part of the picture, but there are also other assets and debts that will need to be reviewed. Share what future you are hoping for with a skilled attorney, then a path forward can be pursued. Contact us today to book an appointment.