Five Signs Your Partner May Be Abusive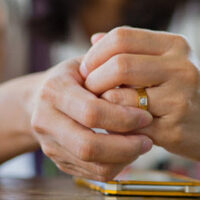 Abuse in any form is a complicated and sensitive issue. Most abusive partners will not show any signs of abuse or mistreatment in the beginning, which is why many victims fall prey to their traps. Whether you're a man or a woman, an abusive partner can draw a barrage of mental and physical pain on you.
Sadly, since March last year, incidents related to domestic abuse were on the rise as cities started locking down due to COVID-19. If you suspect that you may be in an abusive relationship, here are five signs of an abusive partner to look out for.
Physical Abuse 
Physical abuse in any shape or form is a crystal clear indication of an abusive partner. Regardless of it being provoked or not, under no circumstances a person should never decide to inflict physical pain on their partner.
If every fight or argument with your partner is ending with him/her physically assaulting you in any way, then that's a sign of a chronic abuser. Abusive partners who resort to violence to get their way and exert dominance in the house should be dealt with immediately.
Constant Criticism
An abusive partner will criticize every decision or action that you take. Many people are bound to become overly critical under stressful situations; however, if your partner is doing that on a regular basis, then it's not a good sign.
Hypercriticism is a slippery slope that can land you in a dark place emotionally. They will put down your opinions or suggestions every time you try to take an initiative and exert themselves as the superior one in the relationship. This also includes criticism directed towards your friends and family members in an effort to alienate you from them.
Blame Game
 Your partner will reluctantly put the blame on you every time something goes wrong. Abusive partners have massive ego problems and will most likely never want to take the blame for any mistakes. They will twist the facts and do everything in their power to shift the blame on you.
An abuser lacks the ability to introspect and accept their fault, even if it is for the common good of all. They like to get an upper hand on people by flooding their lives with constant pressure and self-shame.
Gaslighting 
Gaslighting is a common form of emotional manipulation used by abusers to dominate and gain control over their partners. "Why did you do this when I asked you not to?" "What makes you think you are that good?" Statements like these are meant to send the victims down a spiral of self-doubt and emotional instability.
They know this is a convenient way to set up shop in your mind and constantly put you down. Sometimes they will sabotage your relationship with other people for the sake of their personal beliefs and agendas.
Suspicion or Jealousy
An abusive partner will intentionally sugarcoat their suspicious and jealous thoughts to mislead you. Feelings of jealousy can quickly take a very dark turn. It is very common for abusers to come up with fake stories from the past to manipulate you and get their way.
If you have to share passwords to your phone, laptop, and bank accounts with your partner, that's fine. But that could just be the beginning of what's to come from their controlling behavior. If you find yourself backing out of things you love to do, because it could potentially make your partner mad, then you are in an abusive relationship.
Are You Trapped in an Abusive Relationship?
Abusive relationships can cripple you psychologically, emotionally, and professionally. This is the reason many people are unable to contemplate and share their pain. It eventually leads them to suffer in silence, which is even worse for mental health. Many initiatives are already underway to help the victims of domestic abuse. If you suspect that you may be in an abusive relationship and you're considering divorce, please turn to us here at Baginski Brandt & Brandt. We can help you discuss your current situation and guide you through the divorce process. To speak to our team of compassionate Port St. Lucie family law attorneys, please contact us today.
Resource:
un.org/en/coronavirus/what-is-domestic-abuse