Everything You Need to Know About Divorce Mediation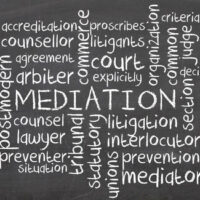 A divorce is a legal process that officially terminates a marriage, or marital union, between two people. While the entire divorce procedure involves significant documentation and legal paperwork, not all decisions have to be made inside the courtroom. If you are currently seeking a divorce, you may recognize that no judge or lawyer understands your relationship as well as you do. Fortunately for you, they do not have the liberty to make all the decisions for the future of your relationship. To resolve disagreements without the influence of the courtroom, you may opt to participate in a divorce mediation instead. All Florida divorce matters must be mediated if contested issues exist.
What Is Divorce Mediation? 
Amid a divorce, divorce mediation is an opportunity where couples can talk out their divorce-related disagreements in the presence of a trained mediator. The mediator is a neutral third party whose goal is to help the couple come to a consensus on common issues. Typically, divorce mediations end up being quicker, cheaper, and less stressful than actual divorce trials. Thus, mediation is often a helpful procedure that utilizes communication for an easier divorce.
What Happens During Divorce Mediation? 
During divorce mediation, you and your spouse will talk out disagreements until you reach a settlement that both parties can agree on.  Attorneys and their client often remain in one room while the opposing attorney and party remains in a separate room.  This reduces stress, emotion and can lead to progress.  Occasionally, parties or their attorneys may meet privately with the mediator if it is agreed upon by all.  Mediation is a confidential process. No offers of settlement or statements (unless criminal in nature) can be repeated.  An impartial mediator will be conduct the negotiations to make sure the process goes as smoothly as possible. Some common issues that are often discussed in divorce mediation include:
Child Custody and Visitation
Child Support
Alimony
Property Division
You will not be forced to agree on certain issues if you do not want to. The mediator's opinions will have no say in the ultimate decision.  Mediators may not give legal advice. They are merely there to help guide the conversation in a logical and controlled manner. The goal of divorce mediation is to talk things out and make compromises, not to be pressured into taking a stance you disagree on.
How Long Do Divorce Mediations Take? 
Divorce mediations do not have a set time limit or restriction. You and your spouse have the choice to participate in as many mediations as necessary. Depending on how polarized your disagreements are, the mediation may take longer or shorter than usual. Regardless, the longevity of divorce mediations are completely up to you and your spouse.  As a guidepost, mediations often last from 2 hours to all day.  Occasionally, mediation may take more than one day or a second mediation may be required.
Is Divorce Mediation Right For You? 
While divorce mediation is mandated and can be extremely helpful for some couples, it may not be the best option for others in reaching a settlement. For example, in relationships where one party does not want a divorce, mediation may not be an effective solution. In other instances, if a party feels extreme anger towards the other or is exceptionally stubborn about their beliefs, it may be forgone that the case will conclude in a courtroom. Finally, relationships that have a history of domestic violence are more difficult as attorneys want to guard their client's from making choices out of fear. It is important to talk to a legal professional and analyze your relationship with honesty.
If divorce mediation is something you are facing, our skilled Port St. Lucie divorce mediation attorneys at Baginski, Brandt & Brandt can help. To discuss your options and schedule a free consultation with us today, please do not hesitate to contact us at 772-466-0707.
Resource:
leg.state.fl.us/statutes/index.cfm?App_mode=Display_Statute&URL=0000-0099/0061/0061.html