Domestic Abuse in Child Custody Battle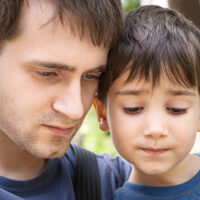 Many factors can have an impact on the outcome of a child custody dispute between a mother and father going through divorce or separation. Everything from the child's preference (if old enough-there is no "magic age") and living conditions of each parent's dwelling, to the physical and mental health of each parent is taken into account by the court. One of these factors is having a history of spousal abuse or domestic violence. Even if the child was not a victim themselves, or if the abuse occurred before they were born, allegations of and convictions for domestic violence are taken very seriously by the court during child custody hearings.
Using Every Advantage to Receiving a Desirable Outcome in Your Case and Working for the Best Interest of Your Child
Your child means everything to you. An experienced Port St. Lucie family law attorney understands this, and will do everything in his or her power to ensure that you win your child custody case. This can mean digging up painful memories and experiences—something that your family, friends, and children may not even know about. However, it is important that you expose the truth, and keep a potentially abusive spouse away from yourself and your child by denying him or her child custody, and potentially visitation rights as well.
The Truth About Intimate Partner Violence
Intimate partner violence, which can also be referred to as spousal abuse, is a problem that just will not go away in America. One in four women reports being the victim of sexual, physical, and/or stalking intimate partner violence at some point in their life, and being negatively impacted by these events, according to kidsdata.org. Other disturbing facts about intimate partner violence include:
Domestic violence is the leading cause of injury for women, surpassing all muggings, rape, and traffic collisions combined, according to New Hope;
One in three female victims of homicide are killed by a current or former intimate partner; and
Most cases of domestic violence are never reported.
How Intimate Partner Violence Impacts Children
Equally disturbing are the impacts that domestic violence has on children. Even though they are not the direct victims, children can develop severe psychological and emotional problems including depression, anxiety, learning disabilities, and more. In fact, children who witness domestic violence are:
More likely to develop health problems, including head colds, the flu, fatigue, and lethargy; and
Twice as likely to abuse their own partners when they become adults (only if they are males).
Reach Out to Our Passionate Port St. Lucie Child Custody Attorneys Today for Help
Child custody is based on one single question: what is in the child's best interest? Obviously, living with a domestic abuser is not in their best interest. In order to win your custody case, you need to show the judge why giving the other parent custody or visitation rights is against the child's best interest, and that may mean bringing up their domestic violence history. To speak with a Port St. Lucie child custody attorney, call the law offices of Baginski Brandt & Brandt today at 772-466-0707 to schedule a free consultation.
Resources:
kidsdata.org/topic/3/intimate-partner-violence/summary?gclid=CjwKCAiA35rxBRAWEiwADqB37-LwEOF9Znd290G9gfUWAg7-AX4PVAwYBjs1PJuzx2zExHCdoICkwhoCEp4QAvD_BwE
new-hope.org/facts-about-domestic-violence/?gclid=CjwKCAiA35rxBRAWEiwADqB370-y8xhfyxxDBJ1mseuDBsnlrMu1C5e72n-TmwuPPcF-Q5kAAsrxERoCGBIQAvD_BwE
https://www.bbblegal.com/how-a-new-marriage-can-affect-child-custody-agreements/