Divorcing a Spouse that has a Substance Abuse Problem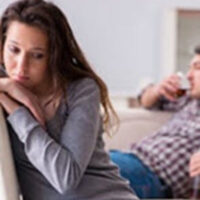 In the United States millions of people suffer from severe drug and alcohol addictions. It may be extremely difficult for you to watch your spouse go through life with a serious addiction. From the withdrawals, irritability, and lack of concern for his or her own personal hygiene, it may feel like your spouse is not even the same person that you married. Your spouse's addiction may have caused bad financial difficulties for the entire family. Not to mention, the addiction may have changed his or her personality and behaviors.
It is obvious that when one spouse is suffering from abuse the marriage probably is not as happy as it once was. Research shows that roughly 50% of all couples that face drug and alcohol addictions go through a divorce.
While divorces are not that easy, it may be easier than watching your spouse destroy him or herself. Divorcing a spouse with a drug or alcohol problem becomes about your wellbeing, safety and health. If your spouse is suffering from addiction and you cannot deal with him or her anymore, it is important to know about how divorces can be affected by drug and alcohol abuse.
How is the Property Divided in Substance Abuse Divorces? 
Normally, in a Florida divorce, all marital assets and property are divided around the theory of equitable distribution. However, the court may determine that it is inequitable to divide and allocate all of the assets and properly of the marriage evenly, based on the unique circumstances of the marriage. Judges assess and scrutinize both of the spouses' uses of any marital assets for at least 2 years before a divorce is filed. 
For instance, your drug and alcohol abusing spouse withdraws a large some of cash out of the bank and cannot account for what he or she spent the money on. All evidence of your spouse wasting money on drugs or alcohol could greatly impact the Judge's determination to give the non-addicted spouse a large portion of the property, because the addict took money away from the marriage.
What Happens to the Children in Substance Abuse Divorces? 
One of the main reasons that spouses decide to divorce an addict is for the safety of their children. Drug and alcohol problems can have a big impact of determination regarding child custody. While Florida law traditionally prefers shared responsibility for both parents, the child's best interests and welfare are the number one priority.
A judge will examine all of the circumstances regarding the parent's addiction to decide whether or not his or her behavior threatens the child's welfare or safety. Any patterns of behavior, such as drinking or abusing drugs around the child, are most likely enough to determine the child could be harmed. As a result, the judge would most likely award sole custody to the parent without addiction problems.
 Don't Hesitate to Contact an Experienced Family Law Attorney 
Since divorces can be lengthy and burdensome, we urge you to contact an attorney as soon as possible. A Port St. Lucie divorce attorney at Baginski Brandt & Brandt can represent you throughout your divorce proceeding.
Both divorces and child custody can be difficult and frightening, so it is important that you choose a knowledgeable attorney to provide the best possible representation.
Attorneys at Baginski Brandt & Brandt have over 50 years of combined legal experience. You can count on our qualified Port St. Lucie divorce attorneys to aggressively represent your interests. Call today at 772-466-0707 or contact us online to discuss divorcing your substance abusing spouse.