Divorce and Complex Asset Division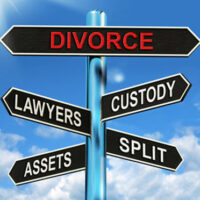 Divorce can be complicated when spouses have been together a long time, own real estate together, or have children. It can become even more complex when there are high-level assets, businesses, and multiple sources of income revenue. If you are going through a high asset or complex asset division divorce, you need an experienced attorney on your side.
Equitable Distribution
Florida is an equitable distribution of assets state, meaning that marital assets are divided equally or "fairly," as determined by the court. This can include an "unequal" distribution of assets in some cases.  Only an attorney familiar with Family Law can advise you if your case qualifies for a request for an "unequal" share of assets to be assigned to one party.  Most divorces are settled outside the courtroom through mediation or arbitration, but asset division is done in a manner consistent with equitable distribution laws. Non marital assets, which include all property owned before the marriage occurred, are not subject to division. While alimony and/or child support may be in order, only marital property is divided.
Types of Assets
The more assets and sources of revenue, the more complicated asset division becomes. All of the following types of assets can be included in marital property:
Checking accounts, savings accounts, retirement accounts, 401(k) accounts, pensions, mutual funds, stock, life insurance policies, annuities, profit sharing, trusts, education accounts, and bonds;
Real estate, including the primary home, vacation homes, land, and business property;
Business assets;
Personal property such as furniture, electronics, automobiles, guns, and clothing;
Jewelry, artwork, coins, oriental rugs, and other expensive personal items;
Settlement or lawsuit awards;
Educational degrees (cost that it took to earn the degree); and
More.
Hidden Assets
An attorney can help you uncover hidden assets. Hiding assets during divorce is against the law, but it does not stop spouses from hiding assets leading up until the divorce papers are signed, a process that can take a year or more. One in five people admits to having hidden $500 or more from their partner, according to CNBC, with men outnumbering women almost two to one in this shady business. Uncovering hidden assets can be tricky, but an attorney can help you do it. Lifestyle expenses, monthly bills, mortgage payments, end of year savings account deposits or retirement fund deposits, and other expenses should be added up and compared to all sources of revenue. If there is a large difference between the two and revenue is much higher, your spouse may be hiding assets from you. Some of the most common ways that assets are hidden include the following, according to Forbes:
Large purchases on products that may be overlooked;
Safety deposit boxes;
Overpaying creditors;
Overpaying the IRS;
Underreporting income to the IRS;
Overpaying the mortgage (if that spouse is going to retain that real estate);
Deferring bonuses or salary promotions until after the divorce;
Offshore accounts;
Transferring stock;
Transferring funds to a friend, relative, or intimate partner;
Creating phony bank accounts; and
Creating fake debt.
Call a Port St. Lucie Complex Asset Division Attorney Today
Going through a complex divorce? An attorney will fight for your fair share of marital asset division, and ensure that all potentially hidden assets are uncovered. Call our Port St. Lucie divorce attorneys at Baginski Brandt & Brandt today at 772-466-0707 to schedule a free consultation.
Resources:
forbes.com/sites/jefflanders/2012/03/14/divorcing-women-heres-where-husbands-typically-hide-assets/#3db5739f6579
cnbc.com/2015/01/21/iding-money-from-spouses.html