Determining How Property Is Divided in Divorce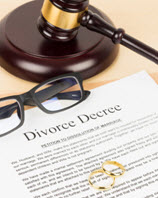 Dividing property in a divorce is one of the most complicated and contested aspects of these cases. It is difficult to decide what one is willing to give up and which items are non-negotiable, but each spouse will need to concede some of their assets and be willing to assume some portion of outstanding liabilities. Florida divorce law requires that all marital property be divided in an equitable or fair manner, while separate property remains solely with the spouse who brought the asset into the relationship. Separate property is typically limited to assets owned before the marriage, with everything acquired during the marriage considered part of the marital estate. However, as with many legal issues, the specific application of this law is not so neat and straightforward in every case. Property brought into the marriage as separate can later become marital if not sufficiently segregated from the couple's interests. In addition, certain property, though received by one spouse during the marriage, can still remain legally separate and not subject to divorce. Thus, while the basic outline of how property is classified for purposes of divorce is the same, the facts of each case will determine how assets and liabilities are ultimately allocated. Classifying property as separate is an important part of any divorce proceedings, especially if there are concerns an asset may no longer qualify for that status. A discussion of which assets are normally considered separate, and how that designation can be lost, will follow below.
What Qualifies as Separate Property?
As mentioned above, separate property is generally considered to include anything that an individual spouse brought into the marriage. It can, however, also encompass inheritances and gifts received by one spouse during the marriage, as well as any of the following:
Separate property acquired by one spouse using separate assets;
Certain types of damages in personal injury claim awards, including pain and suffering, although lost income is considered marital property;
Property identified as separate in a pre- or post- nuptial agreement;
Any property purchased during the marriage using inherited money that was not used for benefit of the other spouse or titled in his/her name; and
Any property owned by one spouse before the marriage that was not used for the benefit of the other spouse.
Actions that Can Nullify this Classification
Separate property only retains this status and exemption from division in divorce if it is not commingled with marital assets, used for the benefit of other spouse, or receives material contributions from the other spouse. Consequently, using an inherited home for family vacations and/or renovating with marital assets is almost sure to transform at least a portion of the asset's value into marital property, which would have to be divided with the other spouse. Further, adding a spouse's name to a separate account, adding in marital funds, or using separate money to buy an asset used for the benefit of the marriage would all result in the property being converted from separate to marital. The best way to preserve separate property from a divorce is to execute a prenuptial agreement outlining what should be excluded. Absent that step, taking deliberate measures to keep separate property wholly away from the other spouse or for use in the marriage is necessary to avoid having to divide all or some of the value in a divorce. Separate gifts are also subject to the same risks, while gifts between spouses are always considered marital property, unless there is an agreement stating otherwise.
Consult a Florida Divorce Attorney
Property division is too important an issue to risk deciding without the advice of an experienced divorce attorney. Property settlements are rarely modifiable and need to be handled in a proper way from the start. The attorneys at Baginski, Brandt & Brandt know how to approach this pivotal issue in divorce, and are available to advise you on how to protect your interests. Contact the Port St. Lucie divorce firm at 772-466-0707 for a confidential consultation.
Resource:
leg.state.fl.us/Statutes/index.cfm?App_mode=Display_Statute&Search_String=&URL=0000-0099/0061/Sections/0061.075.html