Basics of Child Custody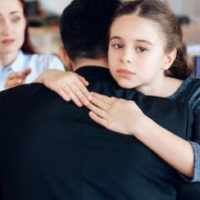 The process of divorcing from a spouse, regardless of how long the marriage lasted, can be considered a great unknown. Since most individuals go through this process only once in their lives, the process is a learning experience. Unfortunately, conventional wisdom, shaped not only by popular media but also by those who have gone through the process themselves, do not serve to provide assistance as to how the divorce process truly works. Part of this misinformation lies in the sensationalism of popular media, but also from the fact that, even amongst those who have gone through divorce, they fail to understand that the divorce process is very individualized. To overcome this, and to ensure that the end result of the process is as beneficial as possible, it is important to speak to an experienced family law attorney when initially considering divorce. One aspect that is always murky is child custody, although, to be honest, the lack of clarity has as much to do with a change in philosophy by courts as it has to do with conventional wisdom.
Issues Involving Children in Divorce Matters
When a family gets divorced, the court overseeing the divorce has the authority to address issues involving any and all children. Included within the umbrella of child issues is where the child is to live – with one parent, exclusively or primarily, or with both parents in a shared custody relationship, commonly known as child custody, as well as issues involving childrearing expenses, otherwise known as child support.
Common Issues Regarding Child Custody
Some of the more common issues involving child custody include the following:
Factors that courts typically take into consideration in determining child custody. The overreaching principle for child custody is the decision should be based on what is in the best interests of the child. To arrive at this, courts will typically look at:

The physical and mental health of each parent;
Any special needs of the child;
The wishes of the child (assuming he/she is old enough to provide an opinion);
Any evidence of illicit drug use, or alcohol or substance abuse, by a parent; and
The child's involvement in the community, such as where he/she attends school, proximity to other caretakers, etc.

Sole or shared custody. Typically, this involves not only where the child will live (physical custody), but also includes issues of legal custody, which involves making important decisions on behalf of the child, such as religion, healthcare, and education, to name a few. Physical and legal custody are two distinct aspects, and, as such, can be combined or kept separate. Thus, even if shared custody is awarded, and both parents will have an opportunity to have the child live with them, the court may award legal custody to one parent. Nevertheless, this area is where a lot of misinformation lies, as, historically, preference was given to the mother to raise the child. However, courts, realizing that children should be raised by both a father and a mother, have trended towards awarding shared custody.
Seek Legal Advice
If you are considering filing for divorce, and are curious as to how child custody works in Florida, talk to the Port St. Lucie child custody attorneys at Baginski Brandt & Brandt as soon as possible. We have years of experience in family law matters and can educate you as to every aspect of child custody that can affect your family. Contact us today for a consultation.
Resource:
floridabar.org/public/consumer/pamphlet025/