Are Florida Police Allowed To Search My Vehicle?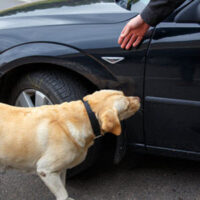 While the typical  interaction after being pulled over is short, there are times when an officer wants to search an individual's vehicle. Officers are allowed to search your vehicle if they have consent or if they have probable cause to believe a crime is being committed.
After a car search that results in arrest, it is important you understand the scope of your rights. Talk to a skilled Port St. Lucie criminal attorney about your options. Having the charges dismissed or reduced may be possible, particularly if there is proof the police officer who searched your vehicle did not follow the appropriate protocols.
An Officer Will Likely Ask for Consent to Search
If a police officer has reason to suspect a car has illicit drugs or illegal weapons, they will likely ask to look around a vehicle. You do not have to consent to a vehicle search If you say yes to their request,  then usually, it will not matter if the officer did or did not have probable cause to search the car and it will be difficult to dispute charges connected to what they discover. If you say no it does not mean the search will not happen, but  it does mean  we may be able to push back against the validity of the search itself, regardless of what the search uncovered.
Throughout a traffic stop remain calm and in control of your emotions. Be clear when you refuse a search, but don't argue with law enforcement. For example, say "No, you cannot search me or my car" instead of "I rather you didn't" or "I don't know." Stay calm, and focused throughout the interaction. While you may want to be polite and you should comply with requests for license and registration, everything you say can be used against you. If you are asked about any illegal items in the car, you should invoke your Right to Remain Silent. If the conversation and search do not result in an arrest, ask if you are free to go. Ask for a lawyer and invoke your right to remain silent if you are arrested
Connect with a Florida Criminal Defense Lawyer
When you are charged with a crime or someone you love faces criminal charges, you need to connect with an experienced attorney. There are a range of arrest possibilities that can be prompted by a traffic stop, one of these is being arrested for items found during a vehicle search. When discussing the situation with your Port St. Lucie criminal attorney, your lawyer may come up with defense options you had not considered. For example, it may be possible to prove the car search itself was unreasonable and the evidence could be thrown out. If there is no other evidence against you, the charge would likely be dismissed.
Do you feel your car illegally searched? You have rights and the attorneys at Baginski Brandt & Brandt can help protect you whether the charges you are facing are minor or serious. Reach out to our legal team to understand your options. Contact us today and schedule your free consultation with a Florida criminal defense attorney.