Adoption and Divorce: How Does Child Support Work?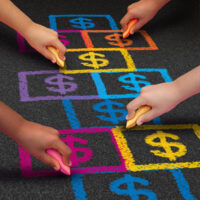 Divorce can be a time of grueling loss and adjustment. Even when a divorce is effortless there is always some grief in one form or another. The sentiments are exacerbated by disputes regarding finances or assets. Common divorce disputes consist of custody, child support, spousal support and divisions of assets and debts. Adoption and divorce can be a very testing challenge for the children and the newly separated parents. For many, that raises the notion of how child support works in that unique situation.
What is Child Support, and When is it Applied?
It is important to understand the basics of child support to have a solid grasp of the concept alone. Child support derives from the basic principle of parents being responsible for supporting a child. Typically, non-custodial parents will find themselves paying their share of support to the custodial parents in order to be used in supporting the child's development.
In essence, child support is applied when there is an obligation of support for a child, but where the parents may not be together. This ensures that the child has the proper resources for development, at the responsibility of both parents.
Who Pays for Child Support?
While it is common that the parent with custody of the child receives the child support, custody alone does not determine who pays child support. At its core, child support is determined by parental income, percentage of overnight time sharing and daycare/healthcare expenses for the child.
The ability a parent has to pay for the needs of a child is factored in as well, but it does exclude reckless debt. If a parent has a higher income, but higher expenses due to education, for example, a judge would consider the burden of the support amount. They might even determine the other partner to require paying for child support. It is important to note that child support is not dependent on gender or sex.
Adopted Children and Child Support
When most think of child support, they think of biological tests or obligations a parent might have to pay child support. In reality, biology has some role in responsibility, but so too does the action of adoption.
For an adopted child, child support is still necessary and an obligation for the parents. Because legally both partners are officially parents of a child, divorce would still require maintaining the wellbeing of the child. This is the responsibility of both parents. Understanding why child support exists is crucial to understanding why it applies to a non-biological child post-divorce. In order to ensure the healthy development of a child, regardless of biological association, they need the right resources to foster that growth.
Children Born or Conceived During the Marriage
Florida maintains that any child conceived or born during the marriage is a child of the marriage, therefore, whether or not the husband is biologically the father, the initial inference is that the child father is the husband.  This is rebuttable to some degree.  Regardless, the initial action requires the husband to be responsible for the child and potentially paying child support.
Questions Regarding Child Support? Contact Our Office Today
With a divorce, there are many questions that arise as both individuals begin to acclimate to a new life. For custody and child support, it is very easy to become quickly confused regarding what the new conditions are regarding financial support, and how to dispute any disagreements. It is important to remember, though, that a child is important to take care of, and as such, it is important to work out any details possible via well-experienced attorneys.
Here at Babinski Brandt & Brandt, we contend that conflicts can be minimized and that proper understanding paves the way for intelligent decision-making. If you are curious about child support, please contact our team of Port St. Lucie family attorneys at 772-466-0707 today.
Resource:
leg.state.fl.us/statutes/index.cfm?App_mode=Display_Statute&URL=0000-0099/0061/Sections/0061.30.html